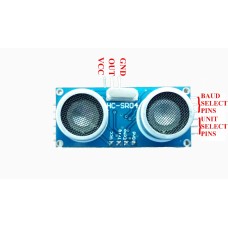 Overview:
The ultrasonic interface board uses the ultrasonic sensor HC-SR04 and process the sensor output to provide the distance output serially.Just give supply and take the out put. No need of triggering the sensor and processing the sensor output.
Features:
1) Serial data output
2) Selectable unit: Output can be selected to be in either cm or in inches.
3) Selectable baud rates: two baud rates possible 9600 or 57600
4) Easily mountable.
5) Onboard configuration jumper for Unit and Baudrate selection
HC-SR04 Ultrasonic Sensor Module with serial converter board
Views: 4583
Product Code:

Elementz-HC-SR04-C1

Availability:

In Stock
Tags: Ultrasonic, HC-SR04, Converter, Sensor, Module