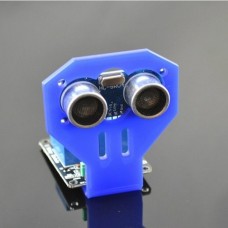 Package Contents
1 x HC-SR04 Ultrasonic Module
1 x Ultrasonic Fixed Mount Bracket for HC-SR04 Module
Product Details
HC-SR04 MODULE
- Compatible with ARDUINO, RASPBERRY PI, AVR, PIC, 8051, etc.
Working Voltage : 5V(DC)
Static current:
Less than 2mA.
Output signal :
Electric frequency signal, high level 5V, low level 0V.
Sensor angle :
Not more than 15 degrees.
Detection distance :
2cm-450cm.
High precision : Up to 2mm
Input trigger signal : 10us TTL impulse
Echo signal : output TTL PWL signal
HC-SR04 ultrasonic module can offer non-contact distance sensing function, the range of which is 2cm to 400cm, and the range accuracy is up to 2mm. The module includes ultrasonic transmitter, receiver and control circuit.
The basic operation principle is below :
use IO port TRIG to trigger ranging. It needs 10 us high level signal at least
Module will send eight 40kHz square wave automatically, and will test if there is any signal returned.
If there is signal returned, output will be high level signal via IO port ECHO. The duration of the high level signal is the time from transmitter to receiving with the ultrasonic.
Testing distance = duration of high level*sound velocity(340m/s) / 2
You can use the above calculation to find the distance between the obstacle and the ultrasonic module.
NOTE : The module has a blind spot of 2cm(very near). So obstacle held too closely will not be detected.
FIXED MOUNT BRACKET
Thickness: 2.8 - 3.1 mm
Inner diameter: 16 mm
Fixing Hole Diameter: 3.8 mm
Material: High Quality Imported Acrylic
Application: Stationary ultrasonic sensor modules and other products
HC-SR04 ULTRASONIC SENSOR MODULE with FIXED MOUNT BRACKET