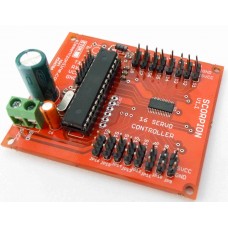 Product Overview
The Elementz Scorpion board is a servo motor controller board with a capability to control 16 servos at the same time. It comes with a board addressing feature which enables the user to use multiple boards at the same time, providing them with the possibility to incorporate more than 16 servos together. The board offers Free running operation, you need not send instructions continously, once settings are done they will be effective unless changed in the next write.
Product Information
• Offers a resolution less than 0.5o.
• Can connect and control 16 servo motors at the same time.
• Board addressing feature is introduced for use of multiple boards at the same time.
• The instructions to the board is given serially using UART communication.
• Servo motors with any time range can be connected to the same board.
• A user friendly design which allows the user to plug in the servos directly to the board
• The serial instruction interface makes it suitable for interfacing with wireless devices like zigbee
Click here to download the User manual
16 servo controller board - Elementz Scorpion Board