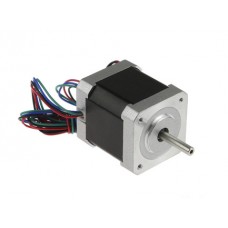 Applications:
Industrial Machines

– Stepper motors are used in automotive gauges and machine tooling automated production equipments.

Security

– new surveillance products for the security industry.

Medical

– Stepper motors are used inside medical scanners, samplers, and also found inside digital dental photography, fluid pumps, respirators and blood analysis machinery.

Consumer Electronics

– Stepper motors in cameras for automatic digital camera focus and zoom functions.
Features
Voltage : 3-6 V

Shaft Diameter: 5mm - Length: 22mm

Torque : 4.2 Kg-cm

Step Angle: 1.8 deg / step

Motor Size: 42x42x40 mm
Nema 17 4.2 Kg-cm Bipolar Stepper Motor
Views: 1018
Product Code:

NEMA-17-STEPPER-MOTOR

Availability:

In Stock
Tags: 4pcs Nema 17 4.2 Kg-cm Bipolar Stepper Motor, Stepper Motor